PROVEN CURE FOR HYDROCELE WITHOUT SURGERY
PROVEN CURE FOR HYDROCELE WITHOUT SURGERY.
Be happy you found us!You just got to the right clinic where your challenge of HYDROCELE will be over in just few weeks. We understand your pains. Sorry for what you are going through.
Hydrocele is one of the most common complain men give to doctors worldwide! You are not alone! Sorry!
We treat hydrocele naturally without surgery. We have treated hundreds of men suffering from hydrocele and they have received permanent healing without knife correction (surgery).
Over years in practice, we have not seen anything works better than this remedy, which will provide result you can feel and see in a matter of weeks.
OUR HYDROCELE TREATMENT IS THE BEST REMEDY FOR HYDROCELE IN THE WORLD NOW!
Yes, we can prove that statement to you, see below for
Real Life Testimonies Of Our Patients With Scrotal Scan Before And After Taken Our Hydrocele Treatment:
AT LAST, HE IS FINALLY FREE FROM HYDROCELE AND VARICOCELE WITHOUT GOING THROUGH SURGERY.

FOR THOSE THAT SAID THERE IS NO CURE FOR HYDROCELE EXCEPT SURGERY; THIS TESTIMONY IS FOR YOU TO READ.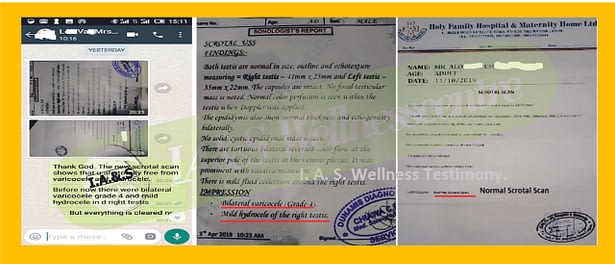 BILATERAL HYDROCELE & VARICOCELE FINALLY CLEARED WITHOUT SURGERY.



TESTIMONY 4



HYDROCELE CLEARED WITHOUT SURGERY IN 2 MONTHS.
Let us stop here.

There are several other testimonies, but to avoid floading this page with so many testimonies.
CLICK BELOW TO SEE MORE TESTIMONIES WITH PROVES BEFORE & AFTER TREATMENT.
The following are the basic information you need to know about hydrocele:
WHAT IS HYDROCELE?
Hydrocele is a common disease especially among the countries having warm weather. It is caused by the accumulation of fluids around the testicles. It can easily be recognized because usually when it is caused the body can be felt as the liquid mass filled separate part. It is like a fluid filled balloon hanging on the skin. Testicles do not have pain where as swelling starts that increases with the passage of time.
CAUSES OF HYDROCELE
The primary hydrocele is recognized by the soft and fluid mass filed in the skin. It usually becomes larger in size and weight that Hydrocele Causes extreme inconvenience. This kind of hydroceles becomes more frustrating if not treated for longer and results in the obstruction of blood supply.
This kind of secondary hydroceles can form due to trauma, cancer, hernia or orchitis. It also occurs due to the torsion of the testis or testicular tumors. They are also seen among the infants. The secondary hydroceles are acute and chronic.
Infantile hydroceles do not have any connection with the peritoneal cavity where as they can form as patent processus vaginalis.
TYPES OF HYDROCELE
The two sorts of hydroceles are noncommunicating and conveying.
Noncommunicating
A noncommunicating hydrocele happens when the sac closes, yet your body doesn't ingest the liquid. The staying liquid is normally consumed into the body inside a year.
Conveying
A conveying hydrocele happens when the sac encompassing your testicle doesn't close the distance. This permits liquid to stream in and out.
SYMPTOMS OF HYDROCELE
Hydrocele Symptoms typically don't bring on any torment. For the most part, the main side effect is a swollen scrotum.
In grown-up men, there might be a sentiment largeness in the scrotum. Now and again, the swelling may be more regrettable in the morning than at night.
Look for therapeutic treatment in the event that you or your kid has sudden or extreme agony in their scrotum. This could be the indication of another condition called testicular torsion. Testicular torsion happens when the testicles get to be wound, commonly because of a harm or mishap. Testicular torsion isn't basic, however it's a restorative crisis since it can prompt blocked blood supply to the testicle.
HYDROCELE NATURAL TREATMENT WITHOUT SURGERY
INTRODUCING HYDROCELE TREATMENT KIT
HYDROCELE SOLUTION KIT Is A Natural Cure For Hydrocele Without Surgery.

The kit is specifically designed to address the root cause of Hydrocele and heal Hydrocele naturally without surgery. It helps repair abnormality and accumulated fluids in the testicles. It clears all bad symptoms of Hydrocele such as testiscular pain, discomfort, swollen testicles etc


This Hydrocele solution kit will enhance better circulation in the testiscular region to enhance production of sperm in few weeks of treatment.


You can be rest assured of impregnating a woman and get permanent healing without surgery with the HYDROCELE SOLUTION KIT. The Kit Will Provide Result You Can Feel In A Matter Of Weeks.
PRICE OF HYDROCELE

TREATMENT KIT:

N220,000 PER BATCH= 2MONTHS




(Note: A batch Of Hydrocele Treatment Last For 8Weeks=2Months).

PROMO PRICE: N180,000

HOW MANY BATCHES WILL I USE TO CLEAR MY HYDROCELE?

Y

ou can order for a batch of Hydrocele treatment at first and at the completion of the 1st batch i.e end of 8weeks treatment, we recommend you repeat the SCROTAL SCAN test. The reason for test after 8weeks is some people do get rid of Hydrocele totally after 8weeks of our treatment so there will not be need to take another batch of Hydrocele treatment once the Hydrocele is cleared in 8 weeks. That is why we recommend you take it per batch as we have had hundreds of patients that got it cleared in a batch except in a severe Hydrocele case that will need another batch

.

Free Delivery To All States In Nigeria

&

PAYMENT ON DELIVERY

(That means we first deliver and when you receive the product you pay)

This promo is limited for a short time.

PAY N2,000 UPFRONT AS COMMITMENT FEE

This is a new policy: Commitment Fee will serve as a proof of interest in getting the treatment delivered to you while you pay the balance when you receive the medicines.

For example, If your treatment total is N90,000 you will pay N2,000 commitment fee and pay the rest of N88,000 when the Medicine is delivered to you.

REASON FOR COMMITMENT FEE:

We operate pay on delivery service but from experience people are abusing the service of pay on delivery, after we must have spent money to send/ship the order they placed, at the point of delivery you will hear excuses like "I have spent the money, I travelled, I was just joking with the order…so many other excuses which are heart-breaking and unfair.

So the commitment fee will help us identify those who are fully ready.

Thanks for your understanding, you can now proceed to place your order below, if you are fully ready for it.

Our account for the commitment fee is:

ACCOUNT NAME: I. A. & S. HERBAL HEALTH INTERNATIONAL.

ACCOUNT NUMBER: 0432034997

BANK: GAURANTEE TRUST BANK (GTBANK)

OUR CLINIC ADDRESS

473, LAGOS-ABEOKUTA EXPRESS WAY, 3RD FLOOR, UBA BUILDING U-TURN BUS/STOP, ABULE EGBA, LAGOS STATE, NIGERIA.


CUSTOMER CARE NUMBER: 08178871052 (CALL OR WHATSAPP)

VISITING HOURS FOR LAGOS RESIDENTS: MONDAY- FRIDAY 8AM-5PM

Once we receive your order,
Our Rep will call you within 24 hours to Verify and process your Order.

Once your order has been confirmed,
We will ship your order through our partner courier companies.
It will be delivered to your doorsteps Within 2-4 working days (Please Note That Working Days Does Not Include Saturday & Sunday) expect a phone call from the dispatch rider.
OTHER TREATMENTS WE OFFER